Built on a reputation of providing quality workmanship, we would like to share a sampling of what a few or our clients have to say!
Please feel free to contact us if you would like more references.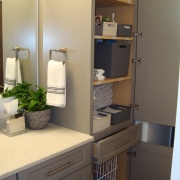 We highly recommend Luken Construction for big or small projects. Matt and his team were wonderful to work with and helped us to remodel our ranch house into a contemporary dream home. We love our new kitchen, laundry and bath and receive numerous compliments every time someone comes to visit. Our house truly feels like a home.
Matt and Pat, Thank you for everything you did for me over the years. Good work done by good people.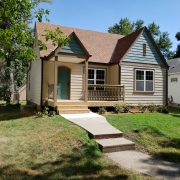 Our house had been completely remodeled inside and out by Luken Construction when we purchased it. The high level of craftsmanship shows the minute you drive up to the house (and I drove by A LOT!) and continues throughout the inside. You can see and feel that they were invested in the home and cared about the job they did. They were helpful and professional through the entire process. We are proud to call this home ours!!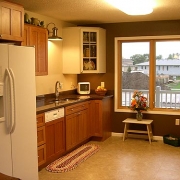 The Lukens have worked with us on kitchen and bathroom projects in two homes.  Pat and Matt were very helpful and professional each time.  They helped us create rooms that suit our personal style and functional needs, and we are pleased with the quality of materials and construction that are evident in each project.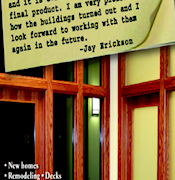 Over the years I have worked with the Lukens on the renovation of three commercial buildings.  Matt and Pat are professional and their craftsmanship and attention to detail is first rate.  They take great pride in their work and it is evident in the quality of the final product. I am very pleased with how the buildings turned out and I look forward to working with them again in the future.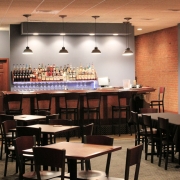 Luken Construction showed me I could have the bar of my dreams, custom built by people I trust.  Their attention to detail means Ben's Brewing Company will have a bar to last 100 years.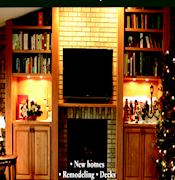 If you saw the "before" picture on this wall, then you would understand the challenge Luken Construction faced.  Brick, soldier courses, wires, outlets were all figured into this "challenge cabinetry" with great success.  The look is complete and we are enjoying the room immensely.   Thanks Matt and Pat!
Thank you for a great job!  I am so pleased with all the work you did and with your solutions to the many challenges and surprises.  I also appreciated your guidance when choosing the siding, windows, doors and trim.  And thank you for being particular and fussy about the details.
Thanks for working with us on the project.  It turned out super nice and met our expectations!
Thanks for the good job and service.  I continue to get compliments on the remodel results.